Cervia Garden City
48th edition. Europe's largest floral outdoor art display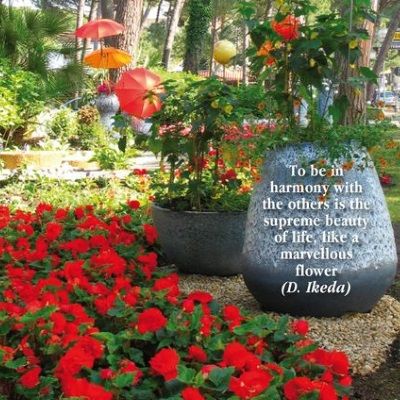 "Cervia takes you to the sea along its many gardens reminding of towns and cities far away", so Tonino Guerra masterfully summed up the significance of the event.
Now in its 48th year, the 2020 "Cervia Garden City" event will be continuing the tradition of hosting the most skilful outdoor architects, technicians and gardeners from famous Italian and foreign cities, institutions and nurseries,  to create the largest pen-air floral art exhibition in Europe. Gardens, flower beds, green sculptures and all the other creations will be on show, like an outdoor exhibition that lasts all summer long, until the end of September, scuttered in different spots of Cervia, Milano Marittima, Pinarella and Tagliata.
Each year more than 300,000 plants and flowers, along with thousands of square metres of lawn are used to realize this event.
Cervia Garden City will present the new gardens in the last weekend of May with installations that will amaze also this year for imagination and originality of the compositions.


To complete the floral weekend the "Green Market" (30 and 31 May) dedicated to lovers of gardening and herbalism that will animate the old town from morning to night (from 30 to 31 May) organized by the Consortium "Cervia Centro", an "Extemporaneous Art" by the Association Cervia meets the art and the exhibition "Spring in Bonsai" by Cervia Bonsai, in the Magazzini del Sale (from 30 to 31 May).
Timetable
From 30 May to 30 September
Cervia, Milano Marittima, Pinarella, Tagliata
Europe's largest open-air floral art exhibition
Exhibition of floral arrangements made during the month of May by more than 60 cities and institutions participating, distributed in various points of Cervia, Milano Marittima, Pinarella and Tagliata. The original gardens and floral arrangements will be maintained and cared for throughout the summer season by the Green Service of the Municipality of Cervia.
From 30 to 31st May 
Cervia - Salt Warehouses, Via Nazario Sauro
Spring in Bonsai
Exhibition of Bonsai and workshops by the "Cervia Bonsai" Association
30 and 31 May
Cervia - Historic Centre and Viale Roma
Green Market 
Nurseries, plants and flowers, bonsai, succulent plants and natural products are the protagonists of this market organized by the Consortium Cervia Center. To enrich the offer, however, there are also artistic and craft creations, pottery, vases and outdoor furniture. This is the 13th edition of the event, dedicated to lovers of gardening, herbalism and natural products. Inside of the event will also take place an Extemporaneous Art, with flowers painted on the spot in Piazza Garibaldi by painters of the Association "Cervia Meets the Art".
Contacts
Comune di Cervia - Servizio Verde
When
from 30 May to 30th September 2020
Where
Cervia, Milano Marittima, Pinarella, Tagliata
Information office
Tourist Information Office - Cervia
Torre San Michele, Via Arnaldo Evangelisti 4